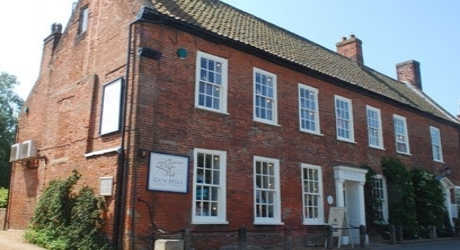 9.30am to 5.00pm Monday to Saturday
BURNHAM MARKET is the spiritual home of Gun Hill. We opened our doors for the first time in this quintessential North Norfolk coastal town back in 1994. Today, our home is in an impressive Georgian residence on the green. Nearby are wondrous beaches, big skies, destination hotels and a vibe that is truly and uniquely Norfolk.
Spacious interiors at Burnham Market display the latest looks from: Crew Clothing, Gant, White Stuff, Ralph Lauren, R.M. Williams and Superdry amongst others. Our expert and friendly store team offer advice on anything from the right colour socks to the best fit of jacket.
Browse a little, take in the view, grab a coffee and relax. Take your time; life's like that in North Norfolk.
Clifton House, Market Place, Burnham Market, Norfolk. PE31 8HD
Tel. 01328 730015 Open 9.30am to 5.00pm Monday to Saturday
9.30am to 5.00pm Monday to Saturday
Our SOUTHWOLD store sits proudly on the High Street of this charming and unique North Suffolk seaside town on the Suffolk Heritage Coast. Southwold has everything for a perfect day out: a working lighthouse, traditional pier, beach huts, a busy harbour, the famous Adnam's Brewery and of course one of the best independent clothing stores in East Anglia!
Our Southwold store stocks the latest ranges from famous brands like; Gant, Hackett, Merino Possum, White Stuff, Claudio Lugli, Dubarry and Superdry. Offering great fashion and great value for both men and women, well worth a visit, it's certainly up there with fish and chips, an ice cream and a stroll around the harbour.
Just like our other stores you'll get a warm Gun Hill welcome and help and advice if you need it. Make sure you take a look at the intricate carvings on the medieval ceiling beams when you visit.
55-57 High Street, Southwold, Suffolk. IP18 6DJ
Tel. 01502 725357 Open 9.30am to 5.00pm Monday to Saturday.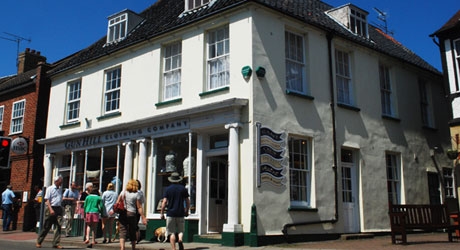 9.30am to 5.00pm Monday to Saturday
We're also right in the middle of the HOLT's busy and sprawling Market Place. This pretty market town is notable for its abundance of Georgian buildings. Its wide range of shops and galleries make it a very popular North Norfolk destination all year round. t's distinctive as being our only store that has a one entrance for men's fashion and another separate one for women's fashion
Once inside you'll find; White Stuff, Crew Clothing, Hackett, Seasalt and Sandwich in the ladies collection. In the men's collection you can browse the latest looks from brands including Hackett, Superdry, Timberland, R.M. Williams, Superdry and of course, our very own Gun Hill brand.
Check out our unique display system built by our tame plumber.
9, Market Place, Holt, Norfolk. NR25 6BE
Tel. 01263 712027 Open 9.30am to 5.00pm Monday to Saturday.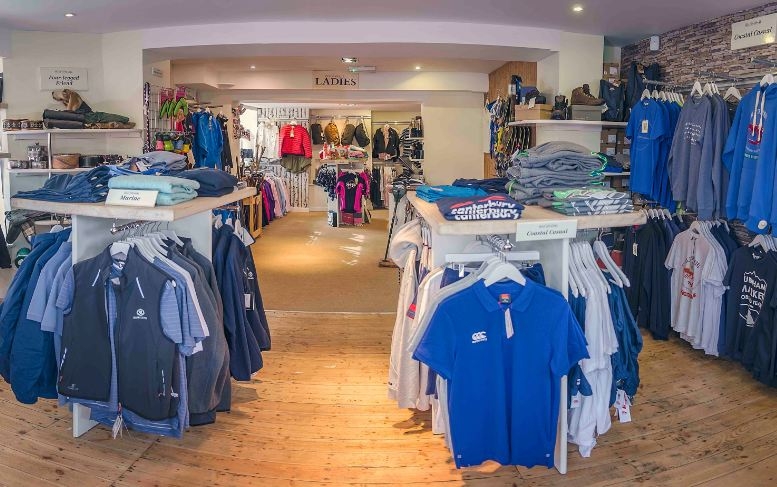 9.30am to 5.00pm Monday to Saturday
GUN HILL GREAT OUTDOORS opened in April 2016 and sells top branded clothing from well-known and desirable brands such as Berghaus, Barbour, Henri Lloyd, Sloppy Joe, Toms Shoes, Havaianas footwear and accessories for ladies and men along with waterproof and technical jackets, walking poles, bags, binoculars, sunglasses etc.
Dogs are not only welcome but they get their own shopping experience too! Our best friends love their range of products. New and exclusive is Gun Hill's branded range of t-shirts, hoodies and cycling tops combining quality materials with style, verve and the spirit of adventure with a wry twist of Norfolk humour.
Located on The Green in Burnham Market, Gun Hill Great Outdoors is perfectly placed for walking, cycling, birdwatching, picnicking and enjoying the countryside and spectacular Norfolk coastline nearby.
Market Place, Burnham Market, Norfolk. PE31 8HD
Tel. 01328 730462 Open 9.30am to 5.00pm Monday to Saturday